Jnani Data Analytics Platform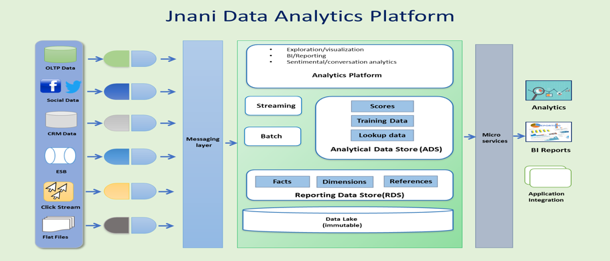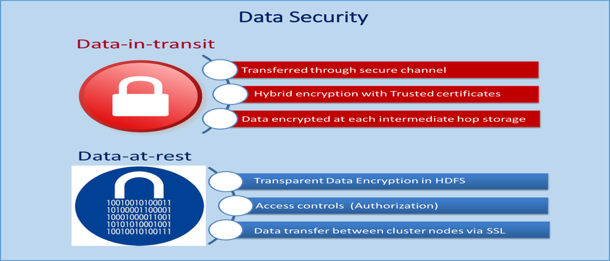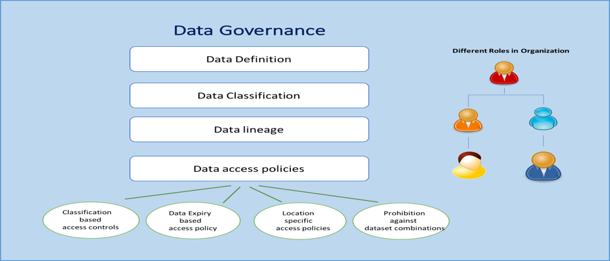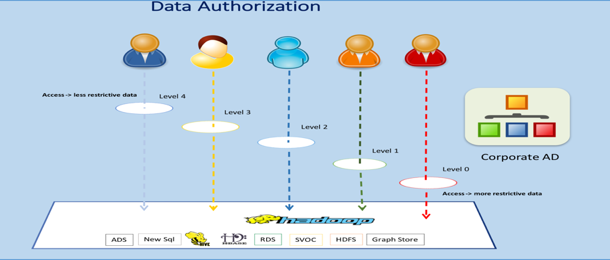 After working with various clients we identified a need of unified platform that can help our customers to ingest data and develop BI reporting or analytics on top of data that was ingested. It gives quick start and accelerates development process for our customers.
The way the platform was architected brings in flexibility to support 'fully on cloud' or 'fully on prem' or 'hybrid' (portion of it 'on prem' and portion of it 'on cloud') implementations. Current picture depicts Hybrid version of the Solution.
This Solution is vendor agnostic that means it can work with all popular BIGDATA providers like Horton works, Cloudera, Map R and It can be portable to major cloud providers like Amazon web services, Microft Azure , Google cloud.
This Platform was built with 100% open source frameworks and we have a slide that covers all frameworks and tools used to build this platform.
IOT Stream Analytics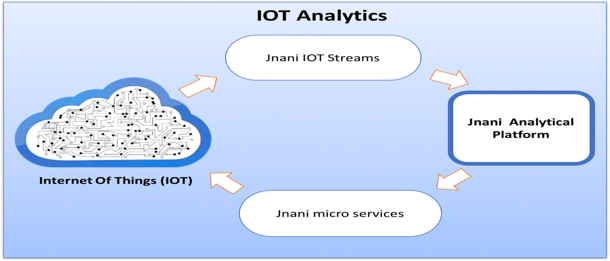 Stream analytics Platform allows enterprises establish a streaming data pipeline collect data from Internet of Things (IoT) and perform real-time, large-scale and high speed analytics on this vast volume of data to generate immediate insights. Jnani IOT Streams collect stream of data IOT devices and ingest into Analytical platform. Once data reaches the platfom and appropriate analytical model process data and send decisions/actions as output to integration points. Integration points can be an application integration or reporting engine or another IOT device.
Image Analytics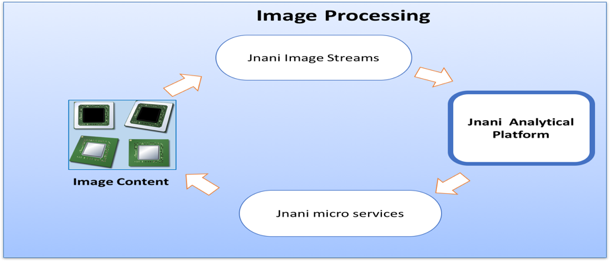 Image processing module connect to image source and collect stream of image data send to Jnani Analytics platform. Image processing Model process data and send decisions/actions as output to integration points. Integration points can be an application integration or backend storage
Machine Learning and Artificial Intelligence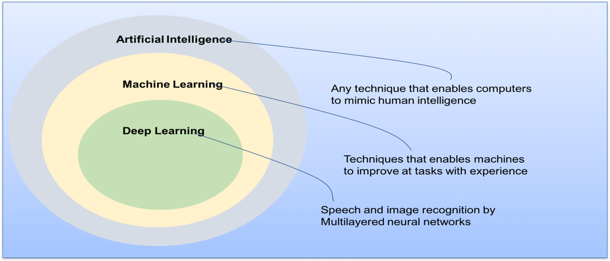 Artificial Intelligence is the broader concept of machines being able to carry out tasks in a way that we would consider "smart".Machine Learning is a current application of AI based around the idea that we should really just be able to give machines access to data and let them learn for themselves.
Deep Learning
The subset of machine learning with composed of algorithms.Algorithms are designed to train themself on huge volumes data,speech and build multi layered neural networks.
Machine Learning(ML)
A subset of AI that enable machines to improve their learning with experience.
Artificial Intelligence (AI)
Any technique that enables computers to mimic human intelligence
Robotics and Artificial Intelligence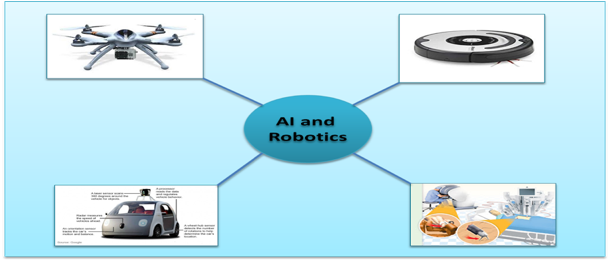 Our research brings ideas on motion planning, machine learning robot systems that can behave intelligently across a wide range of problem domains. Research areas include:

State Estimation
Learning and Optimization
Grasping
Integrated Task and Motion Planning
Jnani Auto Feedback
Jnani Auto Feedback manages the life cycle of automobile dealers PSF (Post Service Feedback).It is a highly secured cloud based solution and it helps dealers to find their dissatisfied customers effectively and serve them better by solving their issues immediately. Provides various categories of reports for CRM Managers, HR and Top Management.

Features:
- Daily customer feedback
- Helps in improving customer satisfaction by understanding customer needs
- Effective utilization of time and resources to better serve customers
- Reduces manual data entry work and human errors by automating the workflow
- Dissatisfied customers can be identified quickly
- Visibility on weak and strong areas in work stations and work force
- Analytics on historic data (Feedback Analysis, Dissatisfied Customers,
Top Service problems, Technician's Performance, Service Adviser's performance, etc.)

Jnani Auto SMS
Jnani Auto SMS is a cloud based solution for sending SMS . It helps automobile dealers in communicating with their customers effectively about vehicle service status, amount due, pickup time …etc. It provides dealer lot of flexibility and helps telecaller to manage work load, reduces the dealer's cost and saves lot of time for their customers by avoiding delays in peak hours .
SkillCertify
SkillCertify is a cloud based solution to help hiring best candidates with the help of assessment tools

Features:
- Communicate to candidates via Email and SMS
- Highly intuitive user interface for customizing assessment specific to requirements
- Different kinds of reports to evaluate the candidate weak and strong areas
- User administration module for companies to manage hiring staff
- Manager and recruiter dashboard to handle recruitment efforts

Scheduler on Cloud
Scheduler On Cloud is cloud based appoinment scheduler. Unlike regular scheduler/calendar applications, this application enables users to organize the resources (human or machine) effectively.

Features:
- Easy to use highly intuitive UI with drag and drop features
- Highly customizable solution as per customer business needs
- Auto reminder SMS/Email to customer about their appointment schedules
- Provides powerful reports on historic data to analyze the performance of individual resource based on schedules
- Different views on scheduler: Daily view and per resource view
- Options to block time for resource breaks.